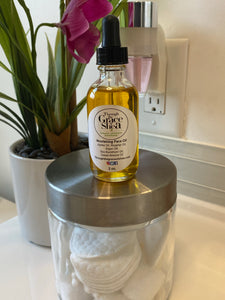 -Handmade-
Our Nourishing Face Oil is excellent for all skin types.  It is rich in vitamin c, vitamin e, essential fatty acids, and packed with antioxidants.  All of these properties are great to help improve moisture, elasticity, uneven skin tone, hyper-pigmentation, inflammation, acne prone skin, breakouts, eczema, and protects against sun damage.
This bottle of greatness will nourish and penetrate your skin without clogging your pores all while feeling lightweight.
Recommended Use:
Day or Night (Your Preference)
Cleanse your face and neck with our foaming black soap.
Recommended to use toner of choice 
Apply 2-3 drops on freshly cleansed damp face and neck, evenly massage upward. 
Let absorb and apply moisturizer of choice. If using in the daytime recommended to use sunscreen after applying oil. 
Let your skin glow!
Ingredients:
-Argan Oil
-Jojoba Oil
-Rosehip Oil
-Sea Buckthorn Oil
-Grape Seed Oil
Unscented
Tip: Healthy skin starts within. Drink plenty of water.
For external use only. This product has not been evaluated by the FDA and is not intended to diagnose, cure or prevent any disease. It is paraben, chemical and toxin free. No animal testing.