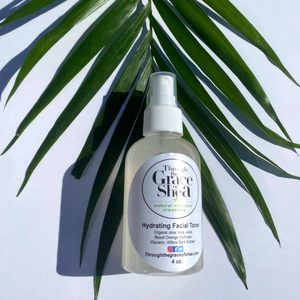 Our hydrating toner is a powerhouse! It is perfect for all skin types. It has hyaluronic acid which helps to retain moisture and willow bark extract to gently exfoliate skin. This toner will help tighten pores and keep skin cleaner longer, all while balancing the skins pH levels. The orange hydrosol in this toner is not only uplifting with its citrus scent but also a natural astringent. 
Ingredients:
Organic Aloe Vera Juice, Blood Orange Hydrosol, Distilled Water, Hyaluronic Acid
Willow Bark Extract, Grapefruit Extract, and Glycerin 
Benefits:
Hydrating
Soothing
Astringent
Antioxidant
Anti-Bacterial
Tighten Pores
Gentle Exfoliant
Anti-Inflammatory
When to use:
Morning and Night after cleansing face with our Foaming Black Soap.
How to use:
After washing your face spritz face and neck. Can let it air dry or use a cotton pad and rub in circular motions upward. Follow up with our Nourishing Face Oil.