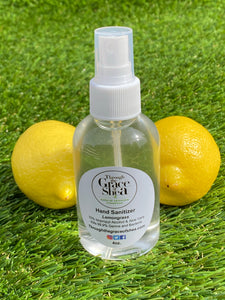 Our spray hand sanitizer can be used on hands and surfaces to decrease bacteria from both. Kills 99% of germs. It has been formulated without the use of harsh chemicals and deeply cleanses without the use of water.
Ingredients:70% Ispropyl Alcohol......Antiseptic, Aloevera, Purified Water, Hydrogen Peroxide and Essential Oils 
Recommended Use: Hands and surfaces. Wet hands thoroughly and allow to dry without wiping. Spray on surfaces and let sit 3 minutes minimum to 10 minutes maximum before wiping off.
WARNINGS-FOR EXTERNAL USE ONLY
*Flammable keep away from fire or flame*
This product has not been evaluated by the FDA and is not intended to diagnose, cure or prevent any disease. It is paraben, chemical, and dye free. No animal testing.