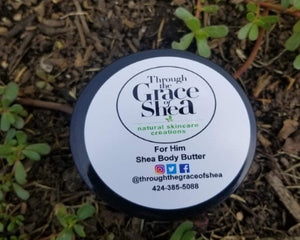 -Handmade-
Gentleman We Have You Covered!
Our "For Him" body butter is guaranteed to keep you moisturized and smelling like a king! Black pepper essential oil is rich in Vitamins A and C, flavonoids, carotenoids and other antioxidants. The blend of a spicy and sporty undertone with citrus smells amazing. Guaranteed to keep your skin moisturized.
Ingredients:
Unrefined Shea Butter
Mango Butter
Jojoba Oil
Grapeseed Oil
Sweet Almond Oil
Bergamot essential oil
Blackpepper Essential Oil
 Benefits of Black Pepper Essential Oil:
High in Antioxidants
Anti-Bacterial
Eliminates Skin Toxins
Boosts Circulation
Benefits of Bergamot Essential Oil 
Anti-Fungal
Anti-Bacterial
Reduce Anxiety
Reduce Stress
Recommended Use: 
All Skin Types
Daily
Absorbs best on damp skin after a bath or shower.
 A Little Goes a Long Way!
Shea Butter contains fatty acids and natural vitamins which makes it incredibly moisturizing and nourishing. It is non- comedogenic meaning it will not clog pores. It is rich in vitamin A,E, and F. It will condition, tone, and soothe your skin. In addition shea butter can help improve the following:
Stretchmarks
Eczema
Burns
Inflamed Skin
Acne
Dandruff